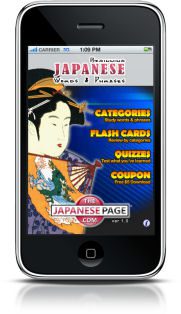 I'm feeling much more prepared for class tonight!
I found a terrific little iPhone app with Japanese flash cards and quizzes.
There's a free version which nicely covers the sort of things you'd see in a first class on Japanese.
The paid version is only $3.99 and has over 800 phrases.
Besides the straight vocabulary drills, the app includes cultural notes and some articles on language basics.
I was unfamiliar with
thejapanesepage.com
before, but I have found this app very useful.
The voice recording is clear and understandable, and the flash card interface is very simple and easy-to-use. You can use the arrow buttons in the upper-right to page through the cards or you can "flick" the cards backward and forward.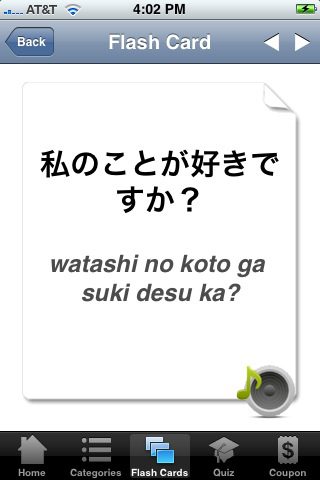 The only issue I found was in the quizzes. In one case, the application gave me duplicate options on the multiple-choice answers and counted my response as wrong.
When reviewing your quiz results, it presents a list of the phrases you incorrectly selected from the answers. I think it would make a bit more sense to show the list of phrases that were the correct answers to the questions you got wrong.
Technorati Tags: Japanese, iPhone, App+Store